Beskrivning
Super flat and dimmable daylight light box with build-in rechargeable battery.
Uniform and color precise illumination for viewing, sorting or digitizing slides or other transparent originals.
Various power supply possibilities: by a built-in lithium ion battery, the combined mains adapter/charger included or the USB cable using a powerbank, computer or car.
Color temperature approx. 5000 Kelvin and color renditon index of 95 provides for precise color rendition for inspection and photographic reproduction of originals.
cm and inch scale beside the illuminated area.
A short touch of the touch switch activates the light source, a longer touch changes brightness continuously.
Scope of supply: Light box, mains adapter/charger, USB cable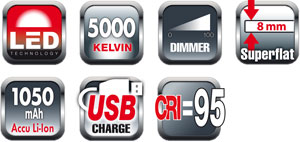 Light source: 23 LEDs, 5000 Kelvin, CRI=95
Luminous density: approx. 750 cd/m²
Power consumption: 3.6 W
Li-ion battery: 1050 mA
Operating time: approx. 5 hours at full power, longer when dimmed
Dimensions (WxHxD): 29 x 0.8 x 20 cm (11.4 x 0.3 x 7.9 in.)
Weight: 570 g (20.1 oz.)
2454: illuminated are: 32 x 22.8 cm (12.6 x 9 in.)
Light source: 23 LEDs, 5000 Kelvin, CRI=95
Luminous density: approx. 600 cd/m²
Power consumption: 4.1 W
Li-ion battery: 1050 mA
Operating time: approx. 3.5 hours at full power, longer when dimmed
Dimensions (WxHxD): 39 x 0.8 x 27 cm (15.4 x 0.3 x 10.6 in.)
Weight: 1010 g (35.6 oz.)